Radiofrequency Treatment of HPV Infections
Radiofrequency (also known as radiosurgery) destroys warts by vaporizing them through radio waves. It is a procedure that can be performed safely in any part of the body. It is hardly likely to cause scarring. Local or general anesthesia may be preferred depending on the abundance of warts before the procedure. Painkillers and pain relieving creams are used after the procedure.
In our HPV Treatment Center located in Silivri, we perform HPV treatment and genital wart treatment with radiofrequency.
You can call our call center at +90 212 986 08 22 to get detailed information about genital wart treatment with radiofrequency, and to make an appointment.
This article may also interest you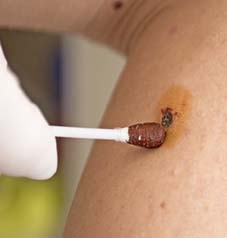 There are many options for wart treatment with drugs and chemicals. Some methods trigger immunity, while others destroy the wart directly.
Read more
Search Terms
Radiofrequency before and after

How long does the radiofrequency effect last?

Radiofrequency wart treatment

Radiofrequency rush treatment

Wart Treatment with Radiofrequency