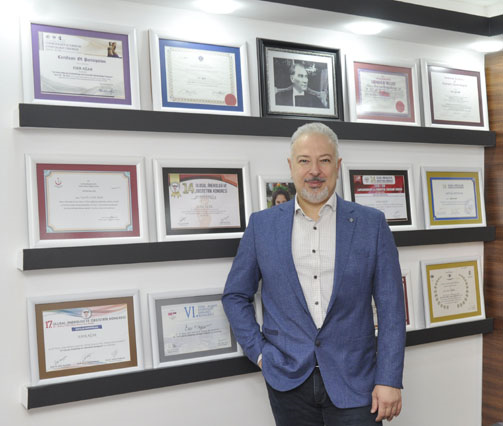 Eser AĞAR, MD, Asst. Prof. of Medicine
He was born in 1977 in Adana. He completed his primary, secondary, and high school education in Adana. Eser Agar, who started his medical education at Ankara University Faculty of Medicine in 1995, improved himself by receiving training on aesthetic and reconstructive surgery at Plastic Surgery Clinic of Çukurova University Faculty of Medicine in the summer months.
After his 6 years of medical education, he graduated in 2001. In 2002, he started his residency training on obstetrics and gynecology in Gynecology and Obstetrics Clinic of Istanbul Şişli Etfal Training and Research Hospital. In 2006, he was appointed to Istanbul University Çapa Faculty of Medicine, Department of Perinatology, where he conducted studies on procedures such as follow-up of risky pregnancies, Level 2 Ultrasonography, Amniocentesis, CVS, and Cordocentesis.
After completing his studies there, he returned to Şişli Etfal Hospital and completed his residency training. He started his 1-year compulsory medical service at Şanlıurfa Siverek State Hospital. At the end of his compulsory medical service, he started his compulsory military service in Kayseri Military Hospital in 2008.
During his military service, he also worked at Kayseri Private Tekden Hospital and Kayseri Acıbadem Hospitals. At the end of his military service, he decided that the civil service was not suitable for him, and resigned from his job. He worked at Sultançiftliği Bahat Hospital between 2009 and 2010, and then started working at Beylikdüzü Medicana International Hospital.
Because of his interest in plastic surgery, he went to Los Angeles, USA in 2011. He worked on Labiaplasty, Majoraplasty (labium majus surgery), Clitoropexy, Hymenoplasty, Vaginal Rejuvenation and Vaginal Tightening together with Dr. Red Alinsod, who is a world-renowned surgeon in the field of genital aesthetics.
After his return from the United States, he worked at Silivri Anadolu Hospital for 3.5 years and at Silivri Kolan Hospital for 2.5 years. Since June 2017, he has been serving her patients in the women's health unit that he has established with intent to improve the quality of the service that he provides to his patients.
In 2016, he was awarded the title of Assistant Professor of Medicine. He continues his academic activities at Istanbul Gelişim University.
His studies on labiaplasty and the operation technique that he developed were published as a chapter in the book entitled "Current Gynecology and Obstetrics" by Akademisyen Yayınevi, a publishing house with international status.
Based on the fact that HPV affects more people all over the world with every passing day, he focused on HPV, and the diagnosis, treatment, follow-up and prevention of genital warts. Since HPV is a virus that usually affects both couples, it should definitely be treated in a holistic way. Because of this need, he undertook the HPV-related treatment of male patients, as well.
His studies on HPV have been presented as bulletins in a variety of congresses. His book section and scientific articles about laser procedures and their efficacy in the treatment of HPV-related lesions will soon meet with his readers.